Attention Back Pain & Sciatica Sufferers! Free Back Pain Workshop
"Learn To Manage Low Back Pain & Sciatica Without Medication, Injections, or Surgery"
Saturday, Apr 14th
12:30 PM
543 Orchard St Antioch, IL 60002
Enter Your Info Below To Register For The Workshop
We value your privacy and would never spam you
THIS FREE WORKSHOP  IS FOR YOU IF:
1

You've missed work due to sciatica or back pain

2

You've missed out on family vacation or activities you love because you're afraid of aggravating your sciatica

3

You've found yourself worrying more about your pain, numbness, and tingling rather than living your life.

4

You've TRIED EVERYTHING and just want to get back to normal.
What Do Others Have To Say About The Back Pain Workshop?
"Before being recommended to Colletti for physical therapy, I suffered from chronic lower back pain. This pain affected my daily activities like putting on socks, bending, lifting and even sleeping. After being given exercises and knowledge about my body, I am able to perform daily activities pain free. I am very grateful for their friendly staff, flexibility to accommodate my busy schedule and knowledgeable therapists! I would highly recommend Colletti Physical Therapy to all of my friends and family."
Lindsey Sullivan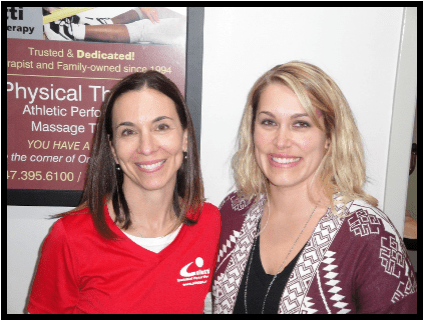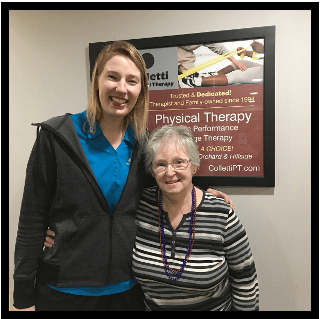 My 1st visit to Colletti SportsMed began after a stay in the hospital for bulging discs and a pinched nerve. I walked in using my walker and a short while later I walked with a cane. After a few weeks of therapy with Mallory, I was able to give up my walker and cane. The exercise instructions for home also helped. It feels great to be able to resume my daily normal activities.
Natalie Renda
When I started my treatment my lower back kept me from doing everything I love. I had lower back surgery & I was doubting I would ever get back to work + family time. At the start of my PT I could not walk or stand for long periods of time. No lifting more than 10 lbs not event my handicapped dog. The process was slow going for me, however Jen would not give up on me. I was taught how to strengthen my core and to do safe exercises that would build my strength not damage my back. When one form of treatment didn't work Jen & her team would try another. Gradually Jen would keep adding different types of exercises to keep building my endurance. At one point I said this is as good as it gets, however Jen refused to believe that. So Jen would get creative and keep pushing me (at one point I was planking) and keep my PT interesting. Now I am back to work and the pain I do have is manageable. What I have learned is that I need to keep up my exercises so I can have a life with my family & 4 dogs. I was given the tools to help keep me & my back strong. Thank you Jen for your care and concern. Thank you to all the staff at Colletti, everyone helped in my treatment.
Kelly South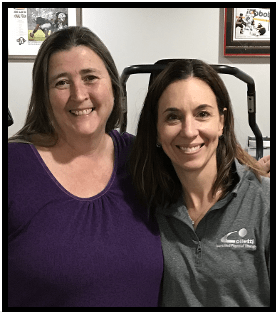 We have limited spots available and space will fill up fast, so register now to avoid missing out.
Enter Your Info Below To Register For The Workshop
We value your privacy and would never spam you